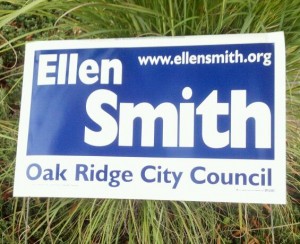 Yes, yard signs are still available for folks who want to show their support for my re-election.
Who wouldn't appreciate a lawn ornament at this time of year, when lawns and gardens are petering out? I prefer to have these signs displayed in people's yards, rather than distributing them along road rights of way, so get yours while supplies last!
Bumper stickers in a similar design are also available. These are quality stickers — experience shows that they pull off easily.
Send me an email at ellen@ellensmith.org to place your request.