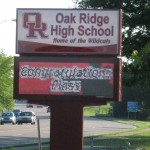 At Oak Ridge Today, I was asked how I would vote on the Oak Ridge Schools budget tomorrow evening if I were a member of City Council. The commenter requested a yes-no answer, but they aren't going to get one.
I don't have the same information that Council members have right now, so  I can't be sure what I'd be thinking or how I'd plan to vote if I were on City Council. The only budget request I've seen from the schools is the board's budget and I haven't been privy to the messages that I know Council members are getting from citizens, school officials, and city staff. It's a safe bet that Council members are hearing from folks who want them to increase the amount (by how much, I can't say) that the city government transfers to the schools, and that this is being requested so that the schools can restore some teaching positions that would otherwise be cut under the schools budget for the 2013-2014 school year.
So what do I think? I'm distressed by news reports that indicate that school budget cuts will cut into some "meat and bones," including laying off some teachers.  The reductions are partly justified by lower K-12 enrollment projections and interim superintendent Bob Smallridge says that impacts on the instructional program will be minimal, but I can't avoid thinking that these reductions will reduce the school system's ability to meet our kids' needs.
However, I also have to assume that an increase in the city transfer to the schools would mean increasing the city property tax rate above the current rate of $2.39 per $100 assessed value. Because Oak Ridgers value our quality school system, many residents would gladly pay more tax to avoid cuts to the schools. At the same time, though, a tax increase would be a burden on some citizens and would make Oak Ridge a little less competitive with surrounding communities with lower taxes. Therefore, Council needs to look extremely carefully at what Oak Ridgers will get for their money if the city decides to increase property taxes in order to send more money to the schools.
Unfortunately, it appears to me from the Oak Ridge Schools budget (available at this link) that the school board and school administration may be putting a higher priority on management than on teachers and kids. This continues a disturbing pattern we saw in years past. Adding up the pluses and minuses in the summary of expenditures on page 25 of the budget, I find that "Instruction" (lines 71100 to 71900) would be cut by $424,809, "Support Services" for students and instruction (lines 72120 to 72230) would be cut $163,689, "Transportation" (mostly school buses) would be cut $76,787, but the combination of facility operations and various centralized administrative functions and services (lines 72310 to 72620 and line 72810) would get an increase of $270,087. Increasing the budget in that last category, while cutting budgets for functions that directly affect students, suggests that the school board and school administration don't have the same priorities that I believe most of the school system's advocates have — or possibly even that this is a deliberate strategy to put public pressure on City Council to increase the school budget. [Edited May 29: In email and at the Oak Ridge Daily Hoot, Angi Agle has explained  that the transportation reduction is not a cut in services, but is merely a result of shifting bus leasing costs from the Transportation line to the Equipment Rental & Replacement Fund line, which is a budget line that I didn't include in the summary tallies above. She also notes an increase in the budget for water and sewer costs paid to the city. Both the schools and the city government must pay retail rates for these utility services, the same as if they were private businesses, so both budgets are affected by increased water and sewer rates. The increase in the water & sewer line in next year's school budget is $67,127, so it accounts for about one-fourth of the administrative functions and services increase I noted above.]
Under Oak Ridge's city charter, the City Council can't amend the Oak Ridge Schools budget or tell the school system how to spend its money.  However,  if City Council is asked to increase property taxes to augment the school budget, City Council needs to ask hard questions — and get good answers to those questions — to provide assurance that any extra funding for the schools will go to address the needs of students, not the needs of administrators. Also, it's high time for the school administration and city administration to get serious about something that Council members pushed for over the last several years — exploring opportunities to improve the efficiency of Oak Ridge's public enterprise (that is, city government and the school district) by sharing resources in functions like facility maintenance and purchasing.
I know that all Council members value Oak Ridge's schools and want the best for them, but unless better answers are forthcoming than I saw over the last several years, I'm afraid that Council will feel they must say "no" to a school system request for additional funds.