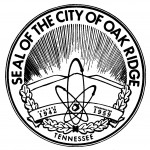 I had an EQAB work session earlier, but now I'm at the City Council meeting, having arrived late. I'm not going to live-blog this one, but I can do bit of real-time reporting.
City Council voted 4-2 (Baughn and Garcia Garland opposed; Mosby arrived later) to give Habitat for Humanity a property on Hillside Road. Later they voted 4-3 not to give Oak Ridge Schools approximately $35,000 from  traffic camera revenues for repair of the sinkhole in the high school soccer field. (If I remember right, the four who opposed the soccer field money were Baughn, Beehan, Garcia Garland and Miller. Hensley, Hope and Mosby supported the funding.)
Now the item on the agenda is the FY 2014 budget — for the fiscal year starting July 1. First item of discussion is the school system's request for city financial support for additional school resource officers (SROs). City Manager Mark Watson says the schools request doesn't account for the cost of police cars for the additional officers that would be hired. Federal grants exist for school policing, and the city will apply for a grant that could help pay for new officers and equipment. Charlie Hensley suggests waiting until we know about a grant (in the summer) until making a decision on this item. Also, Chuck Hope wants the details of a Memorandum of Understanding (MOU) with the schools to be hammered out before making any decision on funding for additional officers in the schools. Chuck also wonders if the SROs need patrol vehicles. Police chief Jim Akagi says that it's important to have a vehicle, but Chuck thinks it might be possible to outfit a vehicle that's not fully suited for patrol use. Mark Watson agrees that several things, including the MOU, are pending and need to be sorted out before this is resolved.
Now, at 9:17 pm, there's a vote on a motion by Trina Baughn to reduce the property tax rate by 1 cent. It fails by a vote of 4-2 (Baughn and Hope voted for), with Anne Garcia Garland abstaining.
The full budget passed without further discussion.
It's 9:23 PM, and there's a vote to fill an unexpired term on the Municipal Planning Commission. Candidates are Sheldon Green, Andrew Howe, Martin McBride, and Hugh Ward. Votes: Mosby for Green, Hensley for Ward, Miller for Green, Beehan for Green, Hope for Green, Baughn for McBride, and Garcia Garland for Howe. Sheldon Green is the new Planning Commission member.