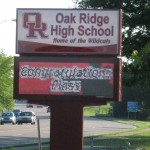 It's happened several times lately. The Knoxville News Sentinel runs a story about some sort of statistics from area school districts, covering Knox County, Anderson County, Blount County, Maryville, Lenoir City, Loudon County, Sevier County, Claiborne County, etc. — but where's Oak Ridge? Today's story is on bullying.
Oak Ridge data are included in the state report that's the basis for the story, so I can't help but wonder if the newspaper's education reporters are unaware that Oak Ridge has its own school system, separate from the county.
I looked at the state report because I was curious about the statistics for Oak Ridge Schools — particularly after recent allegations of rampant discipline problems in the schools. The report says our schools had 14 reports of bullying incidents in 2012-13. Five of the 14 cases were reported as "indicating bully occurred" based on investigation (the News Sentinel describes these as "confirmed" cases), and 5 cases (probably all 5 of the confirmed cases) involved "sex or gender discrimination." There were no cases involving "race, color or national origin," disability, or "the use of electronic technology."
The Oak Ridge numbers are way below the 182 reported bullying cases (all of which were confirmed) in Knox County or the 150 reported cases in Lenoir City (71 confirmed) or the 129 reported cases (53 confirmed) in Anderson County.
Maybe the reporters didn't find Oak Ridge's statistics interesting enough to report because there were so few bullying incidents. Good-news stories about the absence of problems don't sell newspapers. The story they didn't print is good news.
Based on my experience as a parent — and before that as a kid —  Oak Ridge's numbers seem unrealistically low (maybe our schools don't use the same definition of "bullying" as some of those other school districts). However, I'm pleased (and not surprised) by this indication that our schools are generally orderly and our students are mostly well-behaved. (This is not a school system that's out of control.) Too bad that the readers of the News Sentinel aren't reading this good news.
Added at noon on October 27 following discussion on Facebook:
There is no question that different districts are using different definitions of "bullying" and what it takes to confirm a case. For example, is a physical altercation in the schoolyard between two boys, followed by a verbal threat of "I'm gonna kill you" an incident of bullying (I think it probably is) or just a case of "boys being boys" (the way school authorities have been known to interpret this kind of situation)?

In this area, Maryville and Union County both claim zero reported cases of bullying — it seems highly unlikely that nobody reported a bullying incident in an entire school year. Considering that bullying is often a case of "he said, she said" (or "she said, she said", etc.), it also seems unlikely that Knox County didn't have any bullying reports that school officials didn't confirm.

Statewide, my calculations indicate that there were 0.008 bullying reports per enrolled student. Anderson County, Lenoir City, Roane County, and Sevier County statistics show higher rates than that state average (Lenoir City is highest of this group, at 0.068 reported cases per student). Alcoa, Blount County, Clinton, Knox County, Loudon County, Morgan County, and Oak Ridge report rates below the state average. Oak Ridge and Knox County both had about 0.003 reports per student.

Note: In case you care, the enrollment numbers I used in those calculations were "average daily membership" numbers for the 2011-2012 school year — the most recent compilation I found.