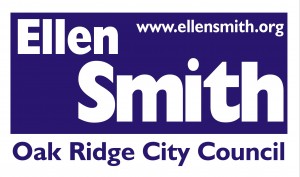 Although I went to work on Monday, did some campaign business, and attended a City Council work session, it seemed like I was never far from discussions about the news (added: second news source) that the Oak Ridge Chamber of Commerce established a political action committee (PAC) that is screening the candidates for City Council and School Board to decide who they will support. People were asking for my opinions. Here's the on-my-blog version of what I told the news media:
I have no objection to the Chamber establishing a political action committee. As I see it, the Oak Ridge Chamber has the same right as any organization to create a PAC to endorse and support candidates of the PAC's choosing. People who are upset about this should consider that PACs must operate in the public eye, so the creation of this PAC should give citizens more information about the political activities of the Chamber membership than we have had in the past.
I plan to complete the questionnaire that the Progress PAC sent to candidates — and I look forward to an interview with the PAC committee as an opportunity for dialogue with some of Oak Ridge's business leadership. It's valuable for candidates to exchange ideas with all citizens and learn more about their interests and concerns. There's no denying that the Chamber and I have been on opposing sides in some major local issues, but I believe the Chamber and the business community it represents are particularly important groups to talk with, learn from, and try to work cooperatively with for the good of the city.
I'm confident that no city funds will go into this PAC. That would be a stupid mistake for the Chamber and the PAC, and the Chamber leadership isn't stupid. PACs generally get their money from member donations, and I expect that's what the Progress PAC plans to do. I think it is legitimate to be concerned that Progress PAC might be trying to get more City money for the Chamber, but (based on the questionnaire and my past experiences with the Chamber) it appears to me that their goal is to encourage a strong business climate (not to augment the Chamber budget).
It would be presumptuous to say whether or not I would accept support from the Progress PAC. No support has been offered and I have no particular reason to expect it. However, I believe in transparency, so if the PAC offers to support me as a candidate, I will definitely tell the public about the offer and my decision — and I will disclose the information again if I'm ever in a position to vote on a matter related to business between the City and the Chamber.