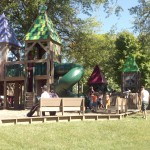 Now that the deadline for answers to the Progress PAC's questions has passed (and it's no longer possible for candidates to copy off each other's papers), I'll post the responses that I provided to their questions. These were interesting questions — you don't have to be a Chamber member to be interested in candidates' answers.
Question 1: Please explain your vision for the City of Oak Ridge for the next 5 years.
My response: Five years from now I want Oak Ridge to be recognized as one of the most desirable residential communities (ideally, the single most desirable community) in the Knoxville metropolitan area. Attainment of this vision will require significant progress in retail development, housing/neighborhood quality, and effective marketing of the community. It also requires maintaining and enhancing the quality of our schools, public services and amenities, as well as minimizing increases in residential property taxes.
An additional vision that doesn't fold easily into the above: I want the Manhattan Project National Historic Park to be up and running, with national park logos on highway signs leading into Oak Ridge, a revitalized AMSE that is successfully transitioning to nonprofit operation independent from DOE, regular tours (paid for by visitor fees) of Manhattan Project historic facilities, and increased visitor recreational access to federal lands (such as the Wheat community and Freels Bend) that represent the historical landscape where the Manhattan Project was sited.