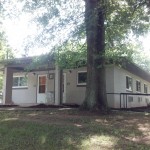 Question 4 from the Progress PAC is about housing. My responses are below. For blog posting, I've inserted a couple of hyperlinks into the plain-text response that I provided to the PAC.
Question: Healthy housing is important to a healthy community. What three specific actions would you take to enhance housing in the city?
Response:
Three actions:
1. We need greater demand for housing in Oak Ridge in order to stimulate investment in housing. The marketing study (and its followup) that I mentioned in response to question 2 is an important step toward building demand for housing in Oak Ridge. Increased investment in existing neighborhoods, particularly in the central part of the city, is particularly important. The plans to redevelop the mall property as "Main Street Oak Ridge" should make a contribution to stimulating demand for homes, particularly in the center of the city.
2. Owners and buyers of existing homes are in need of practical assistance and financial resources so that Oak Ridge homes from the 1940s through the 1970s (the majority of our housing) will have greater appeal to the next generation of homeowners. To help with this, I recently contributed many hours of my time to a cooperative initiative that developed a grant proposal to TVA to obtain funds for "extreme energy makeovers" on about 300 older homes in lower-income neighborhoods in Oak Ridge. If the proposal is successful, this program will reduce living costs for some lucky residents and add value in their neighborhoods by paying for major improvements to many Oak Ridge homes, while providing a practical demonstration of how other properties can be improved to enhance livability and significantly reduce energy costs. I would like for the city, in collaboration with the Chamber, Oak Ridge Land Bank, and other interested parties, to showcase other "demonstration projects" that have updated the aesthetics or functionality of other Oak Ridge homes.
3. Several years ago, I voted for increased utility deposits, which are now relieving city ratepayers of much of the burden of paying for people who skipped out on their electric, sewer, and water bills. However, I know that the utility deposits are also making it more difficult for some lower-income residents to achieve financial stability, and they have caused some desirable rental-property tenants to move outside the city. I intend to ask local business and nonprofits for ideas on how the utility deposit program can be tweaked to reduce these unintended adverse consequences.
Other measures that I don't want to overlook:
4. The Oak Ridge Land Bank and the establishment of an administrative hearing officer function are important steps toward addressing housing issues. I expect that city actions will be needed in the future to enhance both of these programs, but it is too early to know what will be needed.
5. I am committed to encouraging city and community support for social services that help ensure that lower-income residents have safe housing and do not contribute to blight due to their economic circumstances.