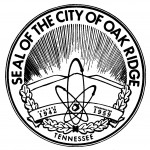 Is it three weeks since the election already?!? Yes, it is. I'm elected to Council again, sworn in, and now it seems I am the new Mayor Pro-Tem.
The election results posted by the county election commissions show that a total of 8,966 voters participated in the election in Oak Ridge — well over 40% of the registered voters. Here are the vote tallies, with my calculation of each candidate's percentage of the voters, and winners marked in bold:
Kelly Callison 4022 44.9%
Rick Chinn 4151 46.3%
Anne Garcia Garland 2620 29.2%
Warren Gooch 4556 50.8%
Gary Love 1494 16.7%
David Mosby 3126 34.9%
Pedro Otaduy 762 8.5%
Aditya "Doc" Savara 1741 19.4%
Ellen Smith 3627 40.5%
Eric Tobler 3115 34.7%
Now we move on to the business of governing. Monday night's swearing-in was more of a ceremonial occasion than I ever recall in the past, impressively conducted by long-time city judge Bob McNees in his judicial robes.
The vote for Mayor took a lot longer than I had expected, due to an unexpectedly even split of votes among the 4 announced candidates. I congratulate Warren Gooch on his new position as Mayor, and I hope to do a good job as his back-up in the position of Mayor Pro Tem (the Council member who fills in when the Mayor is absent). Thanks to my fellow Council members for entrusting me with that position.