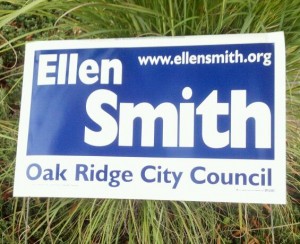 This is news I was definitely not expecting:
The Progress PAC (the O.R. Chamber of Commerce political action committee) included me in its list of endorsements, announced to the news media in a press release earlier today.
This was surprising news because I have never been aligned with the Chamber, I have strongly opposed some Chamber initiatives in the past, and I am not shy about my support for principles like conservation of publicly owned open space and putting the interests of existing residents and owners ahead of the interests of new business development. However, I respect the Chamber as the main representative of and advocate for a very important element of our community — and a group whose members and volunteers who are passionate about the future of Oak Ridge. We share many common goals and interests in this community, and if we are going to make progress as a community, it's necessary for government, the business community, our nonprofit sector, and (ideally) all citizens to try to understand each other's interests and needs and work together for the benefit of all.
I told the PAC's committee (hard-working civic volunteers, all) that I would accept their endorsement, just as I would accept the endorsement of any group of citizens who go to the trouble of evaluating candidates for office and making endorsements as a group. I see the PAC's decision to include me among their endorsements as indicating a recognition that people with divergent perspectives can work together to achieve positive outcomes for our community (indeed, diversity produces more positive outcomes than uniformity!)  — and that I am both qualified and committed to work for what's best for Oak Ridge as a member of the City Council.
I am well aware that some people are suspicious about the Progress PAC's motives and the candidates who cooperated with the PAC. As I said long before receiving today's news, the formation of a political action committee makes the Chamber's role in local political activity more transparent than it has ever been in the past. The PAC must operate under stringent state of Tennessee rules for multicandidate political action committees — getting its funds from member donations (no money from the Chamber organization) and publicly reporting all donations and expenditures over $100.
Additionally, the Progress PAC will not be providing money to any of the candidates they are endorsing — I'm not sure what the PAC plans to do, beyond publicizing its endorsements.  I recall that several other groups have endorsed (and promoted) slates of local candidates in in past Oak Ridge elections, but I don't believe that any of those groups registered as a PAC. With that background, I congratulate the Progress PAC for operating in the open, as required by current state law.
Anyone who knows me at all well will laugh at the suggestion that the Progress PAC endorsement will change my opinions, positions, or future votes if I am elected to City Council. As I did in the past, I will make up my own mind, always aiming for what's best for the community. I'll do my own analysis, ask questions, seek out public input, and listen to what others have to say — and I will pursue consensus decisions where possible (because it's rare for a 4-3 vote to result in a decision that everyone is happy to support — and our local government needs to present a more united front and a more positive image than it has done in the recent past).
The questions that the Progress PAC asked candidates were aimed at gaining information about candidates' views on broad topics in local governance and our ideas and plans for responding to community challenges — they were not narrowly focused on the interests of the Chamber and the business community. I have the impression that most of us candidates (even those who refused to be considered for PAC endorsement) found it worthwhile to develop responses to the PAC questions because it helped us frame positions on questions that many citizens are asking. All of my answers to the PAC questionnaire are available on this blog:
1 – A bit of vision
2 – Where will the money come from?
3 – Patching relations between Council and schools
4- Enhancing housing in Oak Ridge
5 – On the city government relationship with Chamber of Commerce
6 – Signs should help businesses reach customers — and they shouldn't be ugly