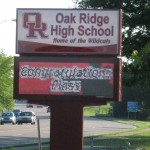 The Progress PAC's third question was about patching the relationship between Oak Ridge City Council and the Oak Ridge Board of Education. My submitted response is below. At the October 1 forum conducted by the PTA-PTO Council, I was pleased to hear several school board candidates make statements that suggest they are thinking along similar lines.
Question 3: The relationship between the Board of Education and City Council has been strained. What is your plan to help build consensus between the two bodies?
My response: The strain in the relationship between the city and the schools has the same cause as many breakdowns within loving families: poor communication about money.
To repair the relationship, we need to establish open, honest, and timely communication about budgets and money. Discussions should not be just between the Board and the Council, but also must involve staff of both organizations –- the people who develop budgets and can explain the details. Ground rules are needed for these communications before they begin. Among these ground rules, I would like to see the Board accept that Council must make decisions that balance between all of the competing priorities for city money (including city operations, schools, capital needs, and the desire to minimize property taxes), and that a full understanding of the "innards" of the school budget (and the reasons for various expenditures) may be necessary to help Council weigh the Board's funding requests against the other competing priorities. On the other hand, Council needs to agree that it has no authority to direct or interfere with Board decisions on how it spends the school budget or on how the schools are run. Ground rules should also include strong admonitions not to make personal statements critical of other participants – or other remarks that personalize the discussion.
I support the Council's plan to re-establish a budget and finance committee in which Council members can study and discuss budgetary matters related to the entire city government and the schools. I think that meetings of this committee (which are public meetings) will provide the right setting for the two bodies to begin new conversations about money. Even if all members of both bodies are in attendance, I believe that the setting of a working committee (rather than a formal meeting of the full memberships of both bodies) should help to minimize posturing and grandstanding by individual members of the Board and Council, which has sometimes impeded meaningful communication in the past. Early discussions (starting soon after the November election) are needed, so that neither the Council or the Board will be surprised by the other body at budget time in May and June.