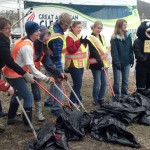 Plenty of spring cleaning is going on in the community (and I  need to do some at my house, too).
Melton Lake Cleanup. Volunteers are needed on Saturday, March 23 (rain date March 30) to pick up trash on the shores of Melton Lake. TVA has lowered the lake level for the occasion. Oak Ridge Breakfast Rotary, Greenways Oak Ridge, and Keep Anderson County Beautiful  are partnering for the event. Assemble at the new pavilion in Melton Lake Park (Oak Ridge) at 9:00 AM, wear sturdy shoes, and bring work gloves.  The City is supplying the trash bags.
Log your litter collection activity for the Great American Cleanup. The months of March through May are the Keep America Beautiful Great American Cleanup. Citizens who pick up litter and trash around the community or on the lakefront are urged to go to the Keep Anderson County Beautiful website to log your hours of effort and pounds of litter picked up. Many of us pick up litter when we are out walking. If you tell KACB about your efforts, we (I'm on the board) will tell the world (including the state and national organization, as well as Anderson County government) about the amount of work  that volunteers have done on behalf of the community. I've logged 27.5 pounds of litter (that was actual weight, but many people estimate) already this spring, just in my own neighborhood.
Garlic mustard pull and wildflower walk. See native wildflowers and help eradicate an invasive weed on April 6 on the Wildflower Greenway behind the Rolling Hills Apartments (formerly Garden Apartments).  This annual event is sponsored by Greenways Oak Ridge and Tennessee Citizens for Wilderness Planning.
Household Hazardous Waste. Saturday, April 13, 2013, from 9 am to 2 pm, the Tennessee Department of Environment and Conservation and Anderson County Solid Waste Management will conduct the county's once-a-year Household Hazardous Waste Collection Event at the Oak Ridge Public Works Building at (100 Woodbury Lane in Oak Ridge, located behind the K-Mart/Kroger shopping center).
This is for waste generated by residents — no commercial or agribusiness waste will be accepted. Wastes they will accept include household cleaners, adhesives, paint removers, herbicides, pesticides, solvents, antifreeze, oil additives, rechargeable batteries, lithium batteries, pool chemicals, an similar items. Don't bring paint, electronics, empty containers, medical waste, explosives, radioactive materials, or alkaline batteries. (Paint and electronics are accepted year round at Anderson County's Blockhouse Valley Rd. facility; and alkaline batteries can go in regular trash.) It's OK to bring household hazardous waste for your friends and relatives who cannot attend.
Contact Anderson County Solid Waste at (865) 463-6845 for more information. The Household Hazardous Waste Mobile Collection Service was established by the Solid Waste Management Act of 1991 to remedy improper disposal and to educate the public. This service is paid for by the Solid Waste Management Fund, which receives its revenue from a surcharge of tipping fees from Tennessee landfills and incinerators and from the $1.35 fee on each new tire sold at retail in Tennessee.
City Trash and Brush Pickups. Finally, the city of Oak Ridge spring trash pickup starts April 1, 2013, followed by brush pickup starting April 29. (Don't mix trash with brush.)  Details and the trash pickup schedule are on the city website. Trash collection starts in Burnham Woods, followed by Woodland and the city's southeastern quadrant in the first week, and finishes up in the west end of the city in week number 4.