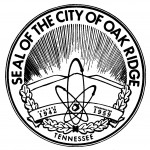 It's rumor control time: The Oak Ridge City Council is not planning to sell the public library or the outdoor swimming pool, and we are not voting next Monday on either of these ideas.
Now that I've gotten that out of the way, here's a little factual information related to this rumor.
City Council meets Monday, July 27, 7 pm in the municipal courtroom to enact a city budget for Fiscal Year 2016, which started on July 1. (This is an important meeting.)
At a Council work session earlier this week, the city manager told City Council that he would like to look into the possibility of hiring a private contractor to manage our public library. This has been done in some communities and reportedly has significantly reduced operating costs, mainly by changing the way new library materials are prepared to be added to the collection. According to the city manager, a contractor that serves many libraries can more efficiently label and catalog new materials, add protective covers, etc., thus greatly reducing "back room" costs — and possibly freeing up some "back room" space in our library for more interesting uses.
The city manager also said that contracting might be a good option for increasing efficiency in operation of the indoor and outdoor swimming pool facilities.
City Council members encouraged the manager to look into these possibilities. No decisions have been made and no vote has been scheduled.
The city manager's proposed FY16 budget provides full funding for the library and swimming pools as they are currently operated.
As for my opinion on these proposals… I am pleased that the manager is looking into opportunities to improve the efficiency of city government operations. A number of different functions of city government probably could be performed more efficiently by specialized contractors that do the same work for many communities. Contractors may be able to give Oak Ridge the benefit of their experience in other place and they may be able to obtain more competitive pricing and other efficiencies in procurement of products and services. Local government purchasing cooperatives are another option that some communities are using to reduce operating costs — and that our city should explore.
However, there are serious concerns in a contracting arrangement. For starters, local control and autonomy should not be sacrificed, and any cost savings achieved should not come from reducing employee pay or benefits (for both current and future employees).  The city manager says that this has not happened in the places that have brought in library contractors. I'm skeptical, but I'm interested in learning more…