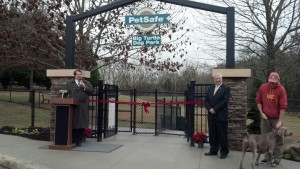 A nice event on Monday — the dedication of the PetSafe Big Turtle Dog Park at Big Turtle Park in west Oak Ridge.
Dog owners who have been impatient for a local dog park are being rewarded for their wait, as this is a premier-quality dog park. Radio Systems Corporation (PetSafe) gave the city $100,000 for development of a really nice dog park, and the layout and design have been informed by the "lessons learned" in other communities that opened dog parks earlier.
I feel I can take a bit of credit for this project, because I initiated the effort (as a Council member) to get City Council to pass a resolution allowing Oak Ridge to pursue a PetSafe grant through an online grants competition that was being conducted on Facebook. The city didn't win that competition, but the staff was able to use that resolution as authorization when an opportunity arose with PetSafe, which has its headquarters in west Knoxville.