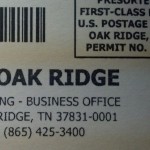 The second question from the Progress PAC was about generating revenue for city services and schools.
Question: What is your plan to generate additional revenue to support or enhance city and/or school services? Give at least two specific examples.
My response:
1. At this time, it is critically important for the city to attract a new generation of residents to take the place of the city's founding generations – and repopulate the homes and neighborhoods that they are leaving behind as they depart the scene. In particular, we need new residents who have both the financial capacity and personal interest to support our city services and our excellent schools. Success in this will require a coordinated strategy with many parts. To help ensure a successful strategy, I believe the city needs to get started with a third-party marketing study aimed at finding out what today's younger generations are looking for in a community, why people who have located here recently have chosen Oak Ridge, and most particularly why some people who work here don't live here. All of us have anecdotal information and pet theories on these topics, but I'm not aware that anyone has solid data. Consulting studies have a bad reputation (and, no, I don't know where the money will come from to pay for this one), but I believe this is a study that we can't afford not to do. It should go without saying that the community will need to follow up on what we learn from the marketing study, both with promotional efforts and with measures to enhance the attractiveness of the community.
2. User fees alone will not provide all the additional revenue we need, but they can help recoup the costs of certain city services. (more…)